Illuminated Breath
Multi-Media Live Performance
<![if !supportEmptyParas]> <![endif]>
Brigid Burke, M(Mus)
<![if !supportEmptyParas]> <![endif]>
Melbourne, Australia
e-mail: brigid@alphalink.com.au
www.brigid.com.au
<![if !supportEmptyParas]> <![endif]>
<![if !supportEmptyParas]> <![endif]>
Abstract
Illuminated Breath is a series of compositions using clarinet, live and pre-recorded electronics, improvisation and visuals (DVD). The works under this title combine developments from compositions I have been creating over the last few years, with specific reference to using both the environment, improvisation and visual influences particularly Australian environmental issues and Japanese cultural influences as a juxtaposition. The works have involved a process of translating an abstract idea into a composition that enthrals an audio and visual output. I conceive a balance of this synthesis of image and sound through experimentation in computer software manipulation, musical performance, abandoning structured rhythm and melody but conveying musical ideas visually. The compositions/ electronics/ improvisations/ visuals range from reactions and discussions of philosophical ideas gained on the basis of spending much time in Australia, Japan and Korean urban areas, also working with Indonesian musicians. The works that will be presented are driven by interwoven rhythms depicting races against time and how industry has affected the landscape in our environment. The use of air and rhythmic forces from the Javanese Gamelan interlaced with clarinet and air sounds, a layer of processed improvisations interwoven above intense and thick electronic rhythmic pulses. The visuals depict layers of water, buildings, industrial telephone and electrical wiring systems with touches of nature superimposed over the cities of Japan, Melbourne and Seoul. I will discuss how I combine and realize the synthesis of my visual art, sound and technology to create a performance.
<![if !supportEmptyParas]> <![endif]>
1 Introduction
The works evolve themselves through investigation that unearths essential tools of the moving audio and photographic medium (words, images sounds, movements) I scrutinize and manipulate to present ideas that question deeply the role of art in relationship to the computer and the artist. My work deals with the non-narrative, abstract feelings, Australian and Asian landscapes and cultural influences, movement and captured moments of time. The works presented stretch the traditional parameters to include technology, everyday objects, sound and performance within the context of the explorations of Australian and Asian culture.
These works at times are over simplified and the themes are expressed in many naïve forms with a love of "miniaturization" so I can animate and have a performance outcome. The aim is to portray the experience of the moment and the movement that proceeds.
<![if !supportEmptyParas]> <![endif]>
2 Process
<![if !supportEmptyParas]> <![endif]>
The processes I engage in involving my compositions are:
<![if !supportLists]>1. <![endif]>The playing of a musical instrument
<![if !supportLists]>2. <![endif]>Computer synthesis through various software packages both audio and visual
<![if !supportLists]>3. <![endif]>A personal interpretation influenced by emotion and experiences
<![if !supportLists]>4. <![endif]>Musical notation (traditional and graphic)
<![if !supportLists]>5. <![endif]>Improvisation –with both western and non western influences
<![if !supportLists]>6. <![endif]>Visual interpretations
<![if !supportLists]>7. <![endif]>Audio and visual layers
<![if !supportEmptyParas]> <![endif]>
<![if !supportEmptyParas]> <![endif]>
Various works are composed by chance operations of layered textures with familiar sounds that are the essence of my works. As a performer and improviser I have extended the range and palette of sound to create works that accommodate the ideas I imagine through these works. These extensions acoustically are in the form of many extended and microtonal techniques on the clarinet, which I have created The electronic devices used with these acoustic extensions are mutiple pitch shifters, amplification, enhancers and modulators. I am an avid collector of found and sampled sounds, which I combine with visual elements. Sound and images are treated, using live electronic devices and computers, and are superimposed, to produce "audio visual layers".
The first stage of a new work often involves improvisation both acoustically and electronically. I use many samples and often take microscopic slices of sound for electronic works. My work varies, though it is often 'gestural' and organic, and composed intuitively. This is also one of the links between the sounds and the graphics.
Not that there are necessarily direct relationships between sounds and images, although that is also possible, but both arise out of the same, or similar, artistic processes. They are both created together and are concerned with organic shapes. too. I often borrow from myself, Many of my pervious works become the basis for the next one and at times are given new titles, with elements developed and extended, and new material built up and superimposed, in a sort of archaeological layering.
3 Compositions
3.1 GRIT
GRIT commission by the Australian Asian Foundation investigates the idea of water, using glass and percussion in different environments.   Grit is set in both the coastline of Victoria, Australia and the city of Inchagaya, Tokyo, brings two cultures together to form one scene. The music encompasses percussion of bowed vibraphone, which opens Grit to create a timeless scene. The clarinet is aimed to mimic the attack of the Indian drum parts. Its musical context is based on improvisations and experimentation using frequency changes. The visuals and Indian drum imitate the clarinet as if in conversation and is lyrically thick with the percussive sounds overlapping themselves to form complex rhythms and visual layers of paintings worked on in tissue paper, glass, fish themes, water, line drawings and are often granulated, pixelated, blurred, continuously morphed and dissolved.
<![if !supportEmptyParas]> <![endif]>
<![if !vml]>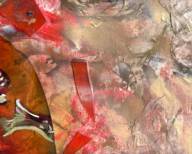 <![endif]>  <![if !vml]>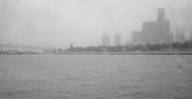 <![endif]>  <![if !vml]>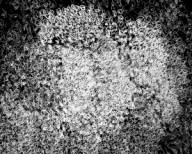 <![endif]>
<![if !supportEmptyParas]> <![endif]>
3.2 LANDS COLLIDE
<![if !supportEmptyParas]> <![endif]>
The concept of the composition is to make the sounds and visuals grow in and out of each other with depth and constant movement with combinations of definition and confusion but as a whole to create unity. Throughout Lands Collide old maps and landscape that have been untainted by man, Javanese flutes and gongs and organic drawings. The sounds and visuals are like the wind, full of rich sonorities just waiting to be transformed or left alone. The aim was also to try and convey moments, portraying a simplistic, guttural, earthy yet sophisticated sound field and landscape as one can feel when in nature and experiencing non-western music. These sounds and visuals are conveyed using land and water sources interpreted into a rich memory of beauty as one may only see in a land untainted by man. This work explores various frequency changes through extreme contraction, expansion, panning and pitch modification. Lands Collide can also be described as an exploration of sounds at different dynamic and room placements and been embedded into different scenes by means of subtle dynamic curves both visually and aurally.
<![if !supportEmptyParas]> <![endif]>
               <![if !vml]>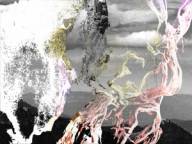 <![endif]>             <![if !vml]>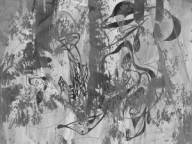 <![endif]>
<![if !supportEmptyParas]> <![endif]>
3.3 Petals Scream
<![if !supportEmptyParas]> <![endif]>
The concept of the composition was to transform the rose petal, breath, acoustic clarinet and percussive sounds to another timbral plane of textural ambience, colours and exploration. The sounds and transformations came from images based on a series of graphics I created from the rose petal. The  sounds match timbres to give off a rich canvas of sonorities around similar pitches, particularly in the last section of the piece. In the graphics I chose a series of red shades side by side with the combination of computer transparencies of images emerging within the work. The objective was to make these images grow in and out of the work to create depth with combinations of definition and confusion but as a whole to create unity. The opening images of sound make a clean yet rough statement as to what is to come through dynamic and pulse alterations. This is broken down quite soon with many 'peaks' and subtle layers, the piece emerges into transformed breath sounds moving into complex paths and high overtones as if speaking to each other with occasional hoarse interruptions of rhythmic frequencies.
<![if !supportEmptyParas]> <![endif]>
<![if !vml]>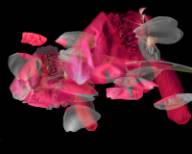 <![endif]>  <![if !vml]>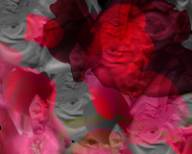 <![endif]>  <![if !vml]>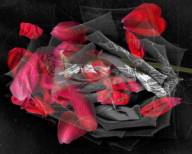 <![endif]>
<![if !supportEmptyParas]> <![endif]>
<![if !supportEmptyParas]> <![endif]>
3.4 Illuminated Breath
Air sounds and interwoven rhythms depicting races against time and reaching the finishing line are the bases of " Illuminated Breath ". It uses air and rhythmic forces from the Javanese Gamelan interlaced with clarinet and air sounds to create this energetic and pulse driven work. A layer of processed improvisations from the clarinet and voice dances above an intense and thick rhythmic pulse in a relaxed manner. The visuals take you to a place with snapshots of both Asian and Australian cityscapes capturing and  entwining abstract illusions of people, buildings and flowers as if there is a race against time but a peacefulness of acceptance.
<![if !supportEmptyParas]> <![endif]>
<![if !vml]>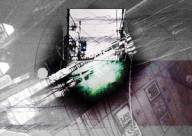 <![endif]>    <![if !vml]>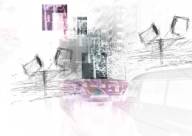 <![endif]>
<![if !supportEmptyParas]> <![endif]>
4 Background
The background of the above works is over the past few years I have created a number compositions investigating water using glass, clarinet, textures, installation, visual art works, water falls and text to create different environments. The Muted Harmony 1999 Installation, a "sound installation" in the gardens of Ripponlea House in Melbourne Australia. Here, two chairs were covered with shards and  fragments of "etched and painted glass…" Speakers conveyed gamelan gong sounds across the space. In addition, around 200 sampled (gushing, sucking, pattering, splashing) water sounds were also collected, then treated and arranged electronically. Glass Water and Lemon 1999 Clarinet, live and pre-recorded electronics and video, Gold Thamar 2000 Clarinet, live and pre-recorded electronics and video, Gelus & Lemus 2000 Clarinet, pre-recorded electronics, gamelan and video and The Sliding Droplet 2001 Clarinet, live and pre-recorded electronics and video. Silencing Thamar 2003 Installation and most recently Life is a Voice for Clarinet and various other instruments, live and pre-recorded electronics and video.
<![if !supportEmptyParas]> <![endif]>
These compositions are a study of how society, heritage and environment are affected by water as a symbol of different influences, trends and traditions. Also the relationship in society and nature through Australian urban and regional environments. These works are portrayed in an abstract manner, each work taking you on its own journey and focus.
The INNER THIRST a radio composition I wrote in 2003 for the Australian Broadcasting Commission Listening Room Program is a combination of all my researched forces of previous compositions. The added component been text as to document, tell a story and take you on its own individual journey of the influences of water both in a spiritual and literal manner. To create mythologies about places either through historical and imagined perceptions of particular locations and emotional affinity with the environment. INNER THIRST is also my abstract response to the environment as I interpret the text and audio samples. Text is selected from Myths and Legends of Australia by A-W Reed. On the spiritual journey of water text will be quoted from the Prophet by Kahil Gibran page 105. A calm sunny day on the beach, painting Arthur Boyd 184-85 Bathers and Pulpit Rock depicts the western and urban influences. This radio work is in the form three sections with an abstract and literal sound focusing on myths, spiritual journeys and literal environmental sound sources. The sounds become more obscure, hidden and filtered through deconstruction and reconstruction as the work progresses. All these ideas are portrayed through the use of jagged and soft purring sounds. They vary from extreme repetitive, high, low and speech like abrupt sounds produced from water, text, glass, and clarinet sources.
<![if !supportEmptyParas]> <![endif]>
The program of works I will be presenting has since proliferated from these specific beginnings. The pieces have accumulated visual components. It has been 're-layered', with line drawings, and with ones created using filters from computer graphics programs. I am "a filter freak", in this respect some elements of the piece, such as Silencing Thamar, are almost stand-alone sculptures within a larger ensemble. Full of coloured objects swimming in and out of view, this oddly beautiful piece is made from a glass-sided aquarium, parts of a chair, coloured glass shards, broken CDs and tissue paper.
<![if !supportEmptyParas]> <![endif]>
5 Conclusion
My process of sifting, filtering and layering; and productive shifting between sound and image; has produced a series of self-seeding, cross-referencing and multi-branching works. Most of these compositions absorb hundreds of individual drawings and visuals, with many of them individually manipulated using computers software packages. These images include close-ups of natural shapes (natural forms and landscapes), scenes of rainforests and images that are elaborately filtered and modified. Most of the pieces  become a polyphony, of sounds and images." 
<![if !supportEmptyParas]> <![endif]>
6 References
Rush, Michael. Video Art Thames & Hudson
Eldridge, Alice. Fond Functions: Generative processes in live improvised performance.
Cage, J. (1961) Silence, Middletown, Connecticut, Wesleyan University Press.
Cope, D. (1991) Computers and Musical Style, Winsconsin, Madison.
Woolman, Matt. Sonic Graphics Seeing Sound Thames & Hudson
<![if !supportEmptyParas]> <![endif]>
<![if !supportEmptyParas]> <![endif]>